River City Juniors hosts three levels of competition for boys teams. Our goal is to provide an opportunity for boys to play and to grow the game of volleyball. Currently we have teams for boys who want to play in the 18u, 16u, 14u and 12u age groups.
We will field a team at each level if we have coaches and we have a minimum of 8 per team.  If you are interested in coaching a boys team please contact Deb @ dgraf@cox.net.
Projected for 2023
1
Boys 18u
National
2
Boys 16u
Regional
3
Boys 14u
Regional
4
Boys 12u
Local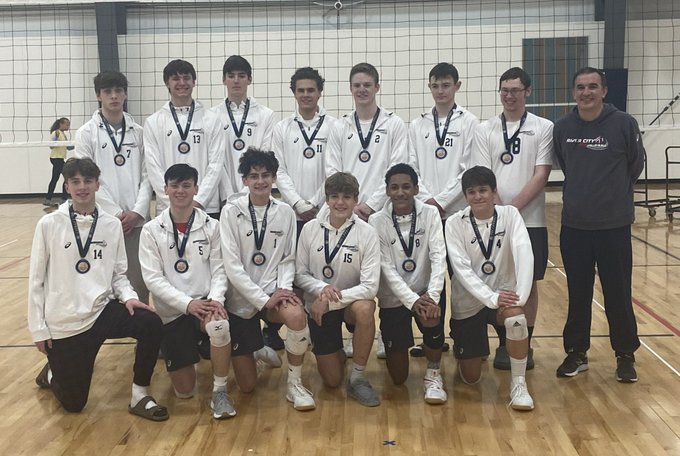 The National Level teams will play in Omaha and regional events as well as National level events. The MAIN season will begin in early Nov and will conclude in Feb. The second season is the National season, from May-mid to late June and includes the national tournament in Orlando. Players may vote to attend additional tournament in Mar and April if a minimum of 8 players can attend that tournament. Players selected to a national level team will be selected by ability.
The Regional Level teams will play in Omaha and within a 2-4 hour drive of Omaha. The season will begin in early Nov. at the same time as the National level team and will conclude in Mar..  Players may vote to attend tournaments after the season if a minimum of 8 players can attend that tournament. Players must tryout to make a regional team.

The Local Level is the league level.  All League play will take place at our home facility, TVA.  Currently the Fall, Winter and Spring Leagues will all be run by TVA.  The Summer League will be run through River City Jrs. All players will make a team, no experience necessary, only the desire to learn one of the fastest growing sports for boys in the US.  Players are placed on teams by ability first.
Why is there a "HYBRID" club season for boys volleyball?
There are 36 states that have HS boys VB (sorry, not NE or IA). It really is split for anyone competing in club or HS or both.  About 5 or 6 states play HS Boys VB in the fall the same as the girls season. The remaining 30ish play in the spring.  Many of these states also play club, but cannot compete in club tournaments during their HS season.
So the Club season begins for many in Nov and continues into March, then takes a beak for HS season, then resumes once HS season is over and many of those teams will play in tournaments again in May and finish at Nationals in Orlando in June. Our 18u and 16u teams will be attending Nationals in Orlando in June. So this year RC will be having MAIN season and a National season.
There are major differences between playing in a league and playing in a club.
We host several leagues throughout the year, either through River City Jrs or TVA.  Both organizations run the leagues in similar fashion and are run by the same coaches. It is all dependent on the time of year which organization is the one running the league.
See these differences below
Club Volleyball
Higher level of training and competition
Longer season
More practices/week
More tournaments
Higher commitment level by the athlete
Requires some travel, can be regional or national
There are two seasons for boys club: 1) Main Season and 2) the National Season
Cost for the Main season can range from $600-$1200 for the main season depending on if a team is Regional or National
Cost for the National season is $350
Main season runs from Nov-Mar
National season runs from May-late June (includes Nationals in Orlando)
Leagues
Competitive level depends on level of athlete
Shorter seasons (6-9 weeks)
One practice/week
Three tournaments/league
Great for the newcomer
No travel, only Omaha or Lincoln
Cost per League can range from $100-$315
Currently four Leagues are offered (Fall, Winter, Spring- through TVA and Summer through River City Jrs)