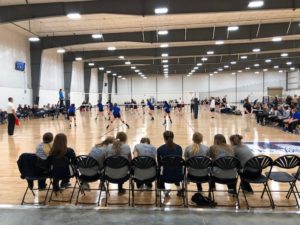 TVA Building Policies
Admission into TVA or River City hosted events will be vary from event to event due to the length of each event.  Adults will be a higher price than 5-18 yr olds, 4 under free,
 Entrance into the facility is to be through the main entrance only.  Individuals found entering or exiting through an emergency exit may be omitted from attendance to that event.
Outside food is allowed in the facility.  If you or your team are bringing in a cooler, it must go upstairs to the mezzanine area.
Outside chairs are allowed only in the mezzanine area.  Seating is provided on the main floor with our facility chairs.  These chairs are to remain on the court they are placed on, and not be moved to adjacent courts.
Our "campus" is a smoke free campus.  There is no smoking anywhere in the TVA Building, parking lot, or grounds of the facility.
The handicap elevator is for handicap individuals only and an attendee.  See the front desk for assistance using the elevator.
There will be no ball handling in the front entry, lobby, under the deck of the mezzanine, on the mezzanine, in the parent room or team rooms.